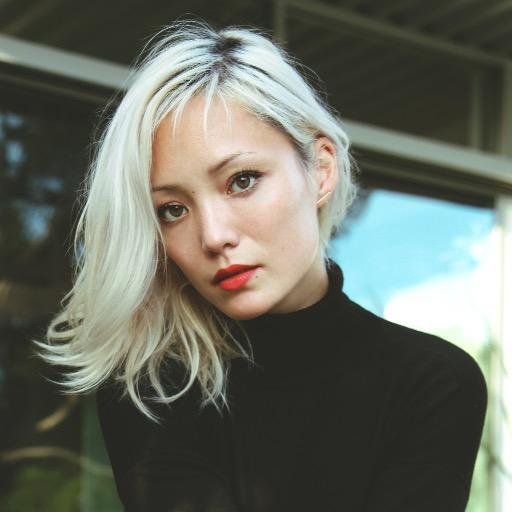 Pom Klementieff, who plays Karl's female avatar.
Does role-playing change us, or simply reveal us?
In the recently released episode Striking Vipers, Black Mirror finally plunges into the murky world of online gender cross playing– and I do mean finally! In this episode, two college buddies enjoy playing a video fighting game much like Mortal Combat. They each have a favorite character. Danny always plays Lance, while his friend, Karl, prefers to play a female character named Roxette. Neither finds this problematic.
Until a fully immersive version of the game becomes available. In this new version, the players find themselves inhabiting the bodies of the characters they play– and even experience the physical sensations. Jumping into the game, Danny once more plays Lance, and Karl, Roxette. Karl jokes about what its like to have boobs, and the two start fighting. Soon, the sexual tension simmering beneath their play- fighting turns to making out, and eventually hot, steamy sex.
The show explores how this impacts them and their relationships, both with each other and their wives/lovers. They question whether they are really cheating, wonder if they are gay. Danny, in particular, struggles, as he is a married man with kids. His suburban life bores him. Is he living a lie?
Each man discovers he is more fluid than he imagined, but that their sexual attraction exists only online– at least the physical side. Karl rhapsodizes about how much he enjoys the female orgasm, but he can't get that in real life. Meanwhile, it is interesting to me that Danny's wife is named Theo, drawing the gender fluidity out further. I don't want to give away the specific ending, but once the men have opened up Pandora's Box, let's just say there in no going back. I feel what the show suggests it is not so much that the online gender bending changes them, but simply allows them to express a part of themselves that was always repressed.
Most people, in my opinion, are many genders, but society works very hard to make us comform to a specific notion of biological gender. This episode there is a little girl and guy in everyone just waiting for a chance to get out.
Check it out on Netflix!